I know it seems like just yesterday that JetBlue announced the first 2-day Big Winter Sale, but it was actually a week ago. Well, they are at it again – another Big Winter Sale.
This is the link for the newest Big Winter Sale, or the Big Winter Sale, Part Deux, as I like to call it. Here are the basics:
Fares include government taxes and fees.
Book by January 11, 2017 (the earlier of 11:59 PM ET or local time).
Monday – Thursday & Saturday travel between January 18 – March 8, 2017. Blackout Dates: 2/17 – 2/26/17.
Blue fare shown.
Different or additional day of week restrictions, travel windows, and blackout dates may apply and vary by route. Click on a fare for details.
The travel and blackout dates are nearly identical to the prior sale, as are the fares.  There are many good fares from New York. I think the fares to some of the Caribbean islands are outstanding, and a good way to escape the cold weather, provided of course, you can find the time and availability.
Happy Travels!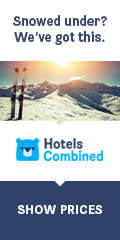 Disclosure: I may receive compensation for some of the links on this blog, including certain credit card offers and other products displayed on this website. You don't have to use these links, but I am grateful to you if you do. Any opinions expressed in this post are my own, and have not been reviewed, approved, or endorsed by my advertising partners.