This is just a quick post because so many of my runner friends like to have custom quilts  made out of their race shirts.  Others might like to have blankets made from concert or travel shirts too.  This is a great idea for a gift!
This is generally a rather expensive endeavor, but I just noticed that there's a special on Living Social from a company called Project Repat.
Here is the link for the LivingSocial Deal
The pricing is as follows:
• $45 ($70 value) for a lap-size T-shirt quilt
• $75 ($110 value) for a twin-size T-shirt quilt
• $85 ($130 value) for a full-size T-shirt quilt
Here's some excerpts from the Living Social page:
Just because you've moved beyond your graphic tee-wearing days, that doesn't mean you have to throw away the memories attached to your old wardrobe. Turn those cherished items into a one-of-a-kind quilt with this deal…

Collect your favorite old tees — think shirts from college, sports teams, family reunions, and more — and send them to this innovative company in the large envelope they provide you, along with instructions. In two to three weeks of receiving your garments, they'll return your unique item — which you customized yourself or allowed the expert Project Repat team design for you.
Please note that the Living Social link is an affiliate link.  If you choose to purchase this item (or any Living Social deal) using my link, I will receive a small fee for which I thank you.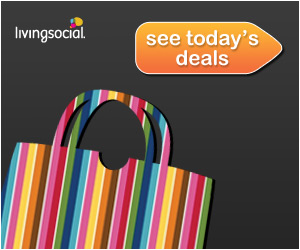 Disclosure: I may receive compensation for some of the links on this blog, including certain credit card offers and other products displayed on this website. You don't have to use these links, but I am grateful to you if you do. Any opinions expressed in this post are my own, and have not been reviewed, approved, or endorsed by my advertising partners.