This page may contain affiliate links from our advertising partners for which we many receive compensation. This may impact how and where products appear on this site. This site does not review or include all companies or all available products. We are thankful when you support this site by using our links.
The Andaz Seoul Gangnam is described as a Luxury Lifestyle Hotel Bridging Modern Living and Senses of Local Culture in the Heart of Gangnam.
Not knowing much about Seoul, of course we initially laughed at the Gangnam term, thinking of the very popular Gangnam Style videos made popular on YouTube! But anyway . . .
We had planned and re-planned a trip to Seoul – first to attend Dave's nephew's wedding a few years ago (which we never made it to), and then to visit the young married couple (good intentions but the trip never materialized), and then to meet the couple's newborn baby (but then travel was banned due to covid). Well, with the pandemic, the baby was now a toddler and we were greatly overdue for our first visit to South Korea.
This was to be the first stop on a trip to Japan, and when Japan Airlines canceled flights, we almost didn't make it to Seoul this time either. But we persevered and yes, we made it. And, yes, we got to see Dave's nephew and his wife, and to meet their adorable son.
Speaking of hotels, I honestly couldn't decide between the Park Hyatt Seoul, the Grand Hyatt Seoul or the Andaz Seoul Gangnam. I had reservations at all three hotels! I read a ton of reviews and I ultimately decided on the Andaz, a category 5 World of Hyatt hotel. I am so glad that we did. I couldn't ask for a more perfect hotel or hotel experience. We stayed three nights at a rate of approximately $200 per night.
The hotel is directly connected to the Apgujeong Metro Station in Seoul (Of course we still got a little lost trying to find the hotel on our first day, but then we figured it out). It is an easy metro ride from the central part of Seoul where many palaces and government offices are located, and a short walk from many Gangnam neighborhoods featuring many shopping streets, art museums and restaurants.
The Andaz is new and shiny with many artistic touches. The team is  so friendly and helpful – the word NO was not in their vocabulary! Here is a view of the first floor lobby area.
We were escorted to our room by John Cho, the Front Office Manager, who was incredibly knowledgeable and friendly.
We were upgraded to a fabulous suite – the Andaz suite! The color scheme throughout the room is a combination of yellow and aqua.  Even the slippers are yellow and aqua!
The motif is comfortable and modern with a hint of Mondrian.
Oh my, the amenities! We received a gift of wine and local fruits. Mr. Cho also gave us some coupons for free drinks or food at the hotel restaurant during happy hour.
I always appreciate when a room has a Nespresso machine! We also had a variety of TWG teas.
Snacks and non-alcohol beverages are complimentary.
As usual, I asked the hotel to remove retail items from the bar and refrigerator.
One night we received these truffle chocolates!
Moving right along . .  there was sufficient closet space, robes, a room safe, and the yellow and aqua slippers!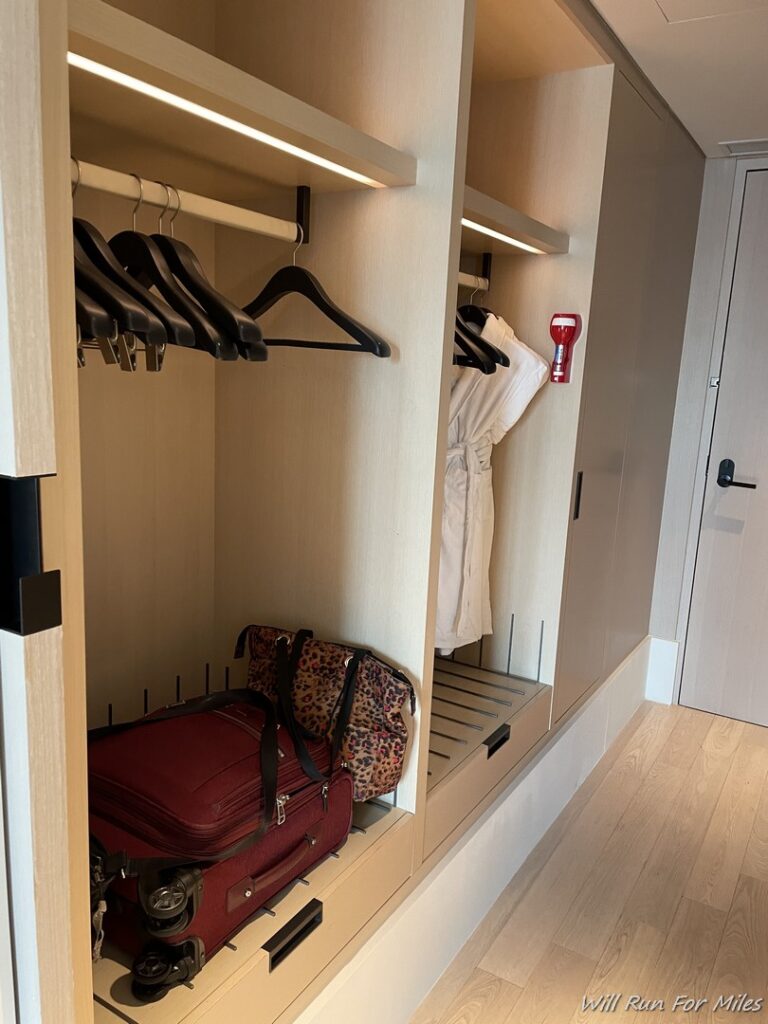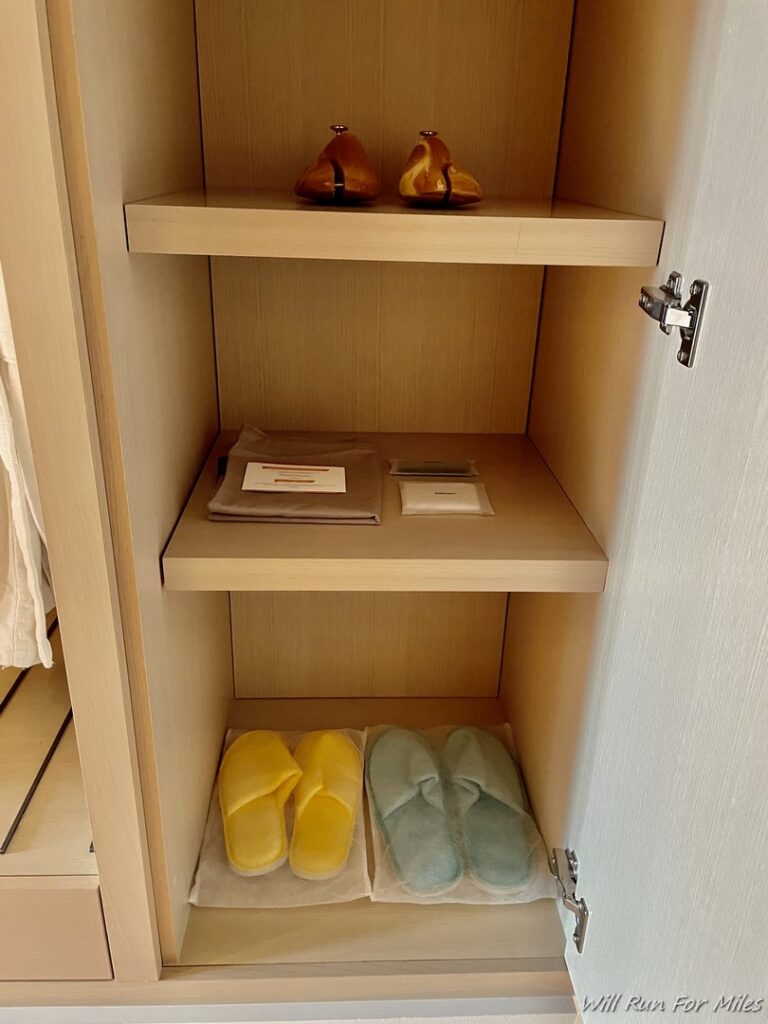 This was the view from our window.
The bedroom is also perfect.
Next to the bed, in addition to plenty of outlets, was a tablet. In the Alexa mode, you could just say Hey Jenie, play the Beatles, and, like that, the Beatles would play.
The bathroom is modern, with great stonework, nice toiletries and plenty of shelves. The toilet is in a separate room next to the bathroom. There is also a smaller second bathroom near the suite entrance.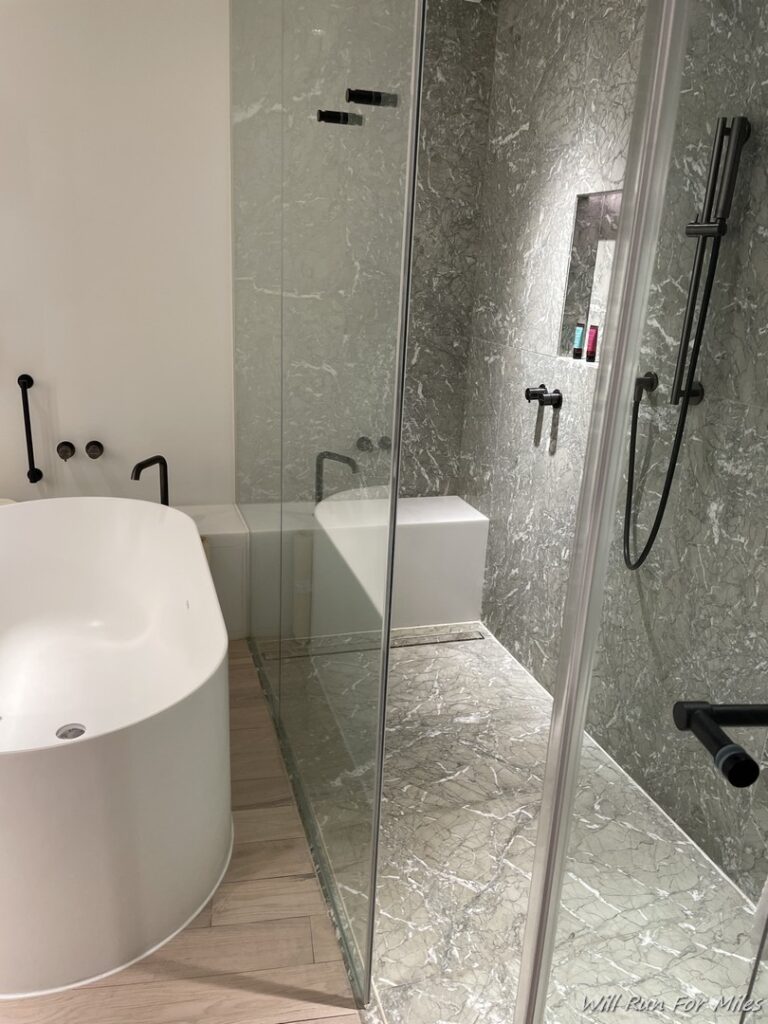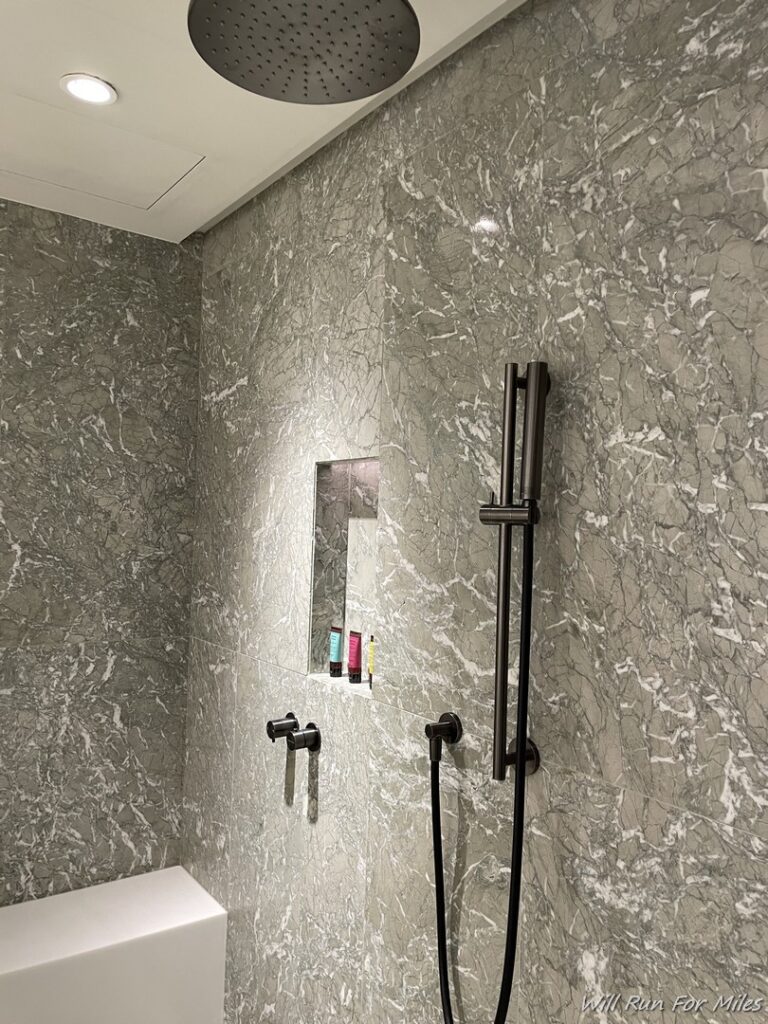 Breakfast, dinner and happy hour were all served at the hotel restaurant Jogakbo.
There was a DJ at the restaurant during happy hour. We had a few drinks and appetizers. The price for each drink and food item on the happy hour menu was very reasonable – 10,000 South Korean Won (less than $8). The General Manager, Robert Hamer, stopped by to chat with us and give us sightseeing and travel recommendations while we enjoyed our happy hours at Jogakbo.
The breakfast, at the same location, was wonderful. The buffet, which included everything you could imagine – and more – spanned two rooms with open kitchens. Both hot and cold items were offered. It was all delicious. My favorite was the Kimchi breakfast bacon and egg rolls with the word Andaz seared onto the rolls.
There were even special items and plates for children!
The hotel gym known as the Summer House is modern and clean with a lot of equipment and machines to choose from. There is a Pilates room that is off limits. I believe that the hotel gym has a private membership, so when I visited in the early morning, I had to wait to use some of the machines.
The pool is stunning. Note, if you plan on swimming, you must wear a bathing cap, so bring one from home or buy one at the hotel shop. There are three large jacuzzis next to the pool, with hot, warm and cooler water. These were great.
I absolutely loved everything about the Andaz Seoul Gangnam. My sincere thanks to the General Manager, Robert Hamer, and his entire team for making the hotel, and our stay, so fabulous!
Editorial Note: The editorial content on this page is not provided by any of the companies mentioned, and has not been reviewed, approved or otherwise endorsed by any of these entities. Opinions expressed here are author's alone.