This page may contain affiliate links from our advertising partners for which we many receive compensation. This may impact how and where products appear on this site. This site does not review or include all companies or all available products. We are thankful when you support this site by using our links.
The Hyatt Regency in Sacramento, California is across the street from the California State Capital and next door to the Convention Center. It is also within walking distance to most Sacramento attractions, such as Old Sacramento.
The hotel is lovely and well maintained. Although it is large and hosts many events, it still has a warm, personal feeling to it. In fact, I found the hospitality at the hotel to be great – the personnel were always extremely friendly and accommodating.
I've often said that a hotel can make or break a trip. This is an example of a hotel that made a trip both enjoyable and memorable, and exemplifies my loyalty to World of Hyatt.
We had an evening flight, so we didn't arrive at the hotel until nearly midnight (I did notify the hotel in advance of my late evening arrival). We were warmly greeted and given the keys to our room.
We were upgraded to a very nice suite.
There was an amenity waiting for us – two bottles of Fiji water and chocolate-dipped strawberries (unfortunately I don't like strawberries, and I have previously asked Hyatt to note "no fruit amenities" on my profile – – but Dave likes strawberries, so he enjoyed them).

The room was nicely decorated and it was very comfortable. My only suggestion: since this room has no window, it could benefit from a little extra lighting.
There was a Keurig coffee machine and a small refrigerator.
The bedroom was very nice. The bed was comfortable. There was adequate closet and dresser space. There were also sufficient outlets in the room.
We had a view of the Capital from our room.
The bathroom was very nice with two sinks as well as a separate vanity area with plenty of counter space.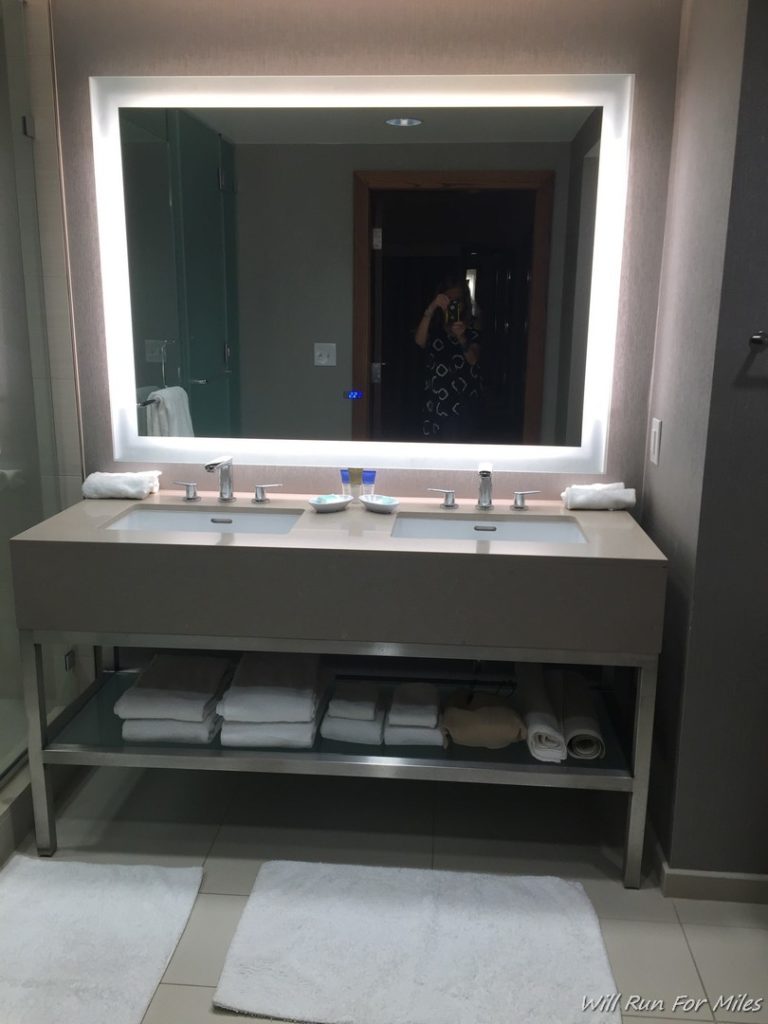 The shower worked well, the toilet had a separate door, and the toiletries were by KenetMD.
I knew that the hotel had a Regency Club which was closed on weekends. Since I was staying until Monday, I thought I would have an opportunity to see it. However, I was informed that the lounge doesn't reopen until Tuesday morning.
As a globalist World of Hyatt member, I received free breakfast in the hotel restaurant, the Vines. On the weekend, the breakfast buffet runs until 2 pm. There is also an ala carte breakfast menu that runs through the morning and a lunch menu that begins at 11 am or 12 pm. We were allowed to order the buffet or from the breakfast or lunch menu. I was thankful for the flexible hours and broad menu choices, as I tend to prefer greens and salads over typical breakfast items.
The restaurant was very nice, the food was good and the staff was extremely attentive.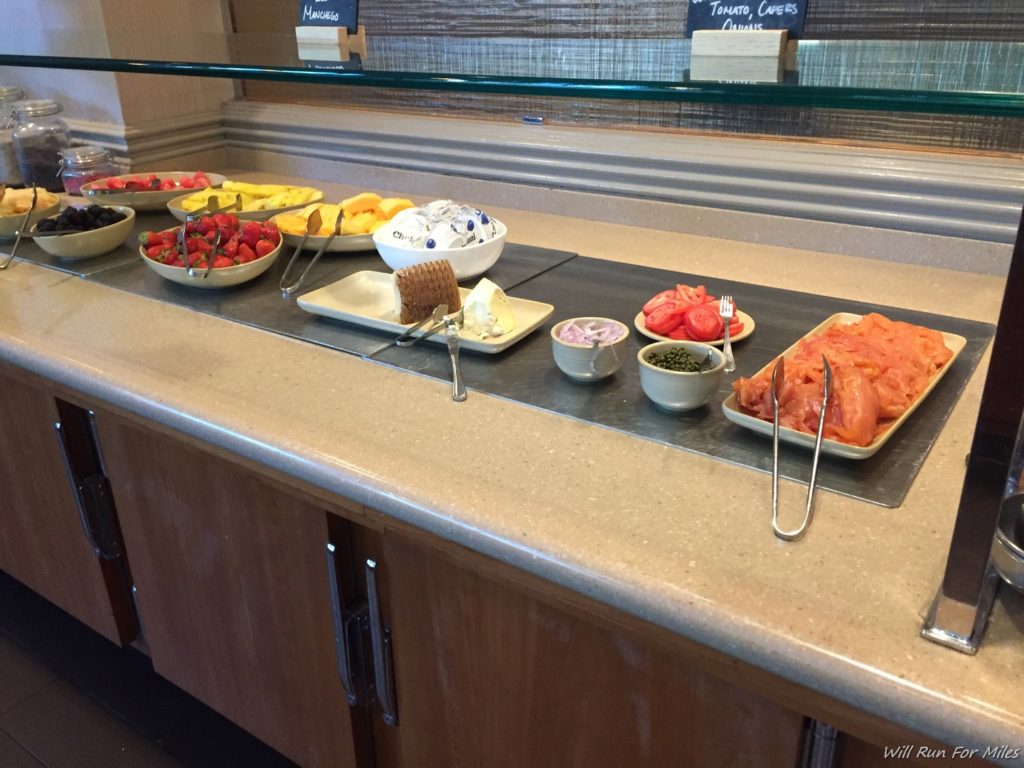 On Monday, the breakfast buffet ended at 10 am, and a lunch buffet and lunch ala carte menu began at 11 am. The lunch buffet included a wide variety of salad items and a soup bar.
The Hotel Stayfit fitness center is actually located via a separate entrance outside the hotel. I reviewed it on a prior visit (see, Hotel and Fitness Center Review: Hyatt Regency Sacramento). The hotel also has a really nice outdoor pool, which I really, really intended to go to, but somehow never did. Next time!
The hotel has a good walking/jogging map of the area (see, Cuckoo for Jogging Maps – Hyatt Regency Sacramento).
Given that the weather was great on this visit, instead of working out in the gym, I walked and ran outdoors, taking in the sights and amazing street art along the way (see, Sacramento: Amazing Street Art Everywhere You Turn!).
Stay tuned for a post on my three days in Sacramento, California.
I note that the hotel is a category 3 World of Hyatt hotel and that I used a points and cash rate for my three-night stay.



Editorial Note: The editorial content on this page is not provided by any of the companies mentioned, and has not been reviewed, approved or otherwise endorsed by any of these entities. Opinions expressed here are author's alone.