This page may contain affiliate links from our advertising partners for which we many receive compensation. This may impact how and where products appear on this site. This site does not review or include all companies or all available products. We are thankful when you support this site by using our links.
In October of this year, we went to Mexico for 10 nights. We split our time between the Hyatt Place Los Cabos (a World of Hyatt category 1 hotel) located in San Jose del Cabo and The Cape, a Thompson Hotel (a World of Hyatt category 6 hotel) located in Cabo San Lucas. Each is reviewed separately – our  experiences at each of these locations was very good but very different. The hotels cannot be compared to one another, as that is like comparing apples and oranges.
Before this trip (our first time in Cabo), I had heard so many marvelous reviews of the Cape. I was excited but scared that I'd be disappointed by my high expectations.
Having now gone there, I can confirm that the Cape is a wonderful luxury resort hotel!
Before I proceed to wax poetic about how much I loved the hotel, I'll tell you the negatives. First, there is really no beach to speak of. If you're dreaming of swimming in pristine waters or running miles on the sand, you might want to go elsewhere. (However, if you enjoy pools or your interest is surfing, this may be the place for you). Second, if you like a hotel that is in walking proximity to other places, this may not be for you. (However, Ubers are plentiful and inexpensive). Third, I've read that the hotel can be filled at times with loud partying types of guests (But, I didn't experience this on my stay).
With that out of the way, I can say without hesitation that the Cape lived up to it's reputation as a beautiful resort hotel staffed by caring employees who consistently go out of their way to make the guest experience superlative.
Most of the hotel is open air areas. On the first floor, there is plenty of lobby seating and a large square-shaped bar, the Sunken Bar.
View of the hotel from the ground floor.
We booked our stay using points. This was a great value, as the cash price of the rooms and suites can often approach $1,000 per night.
We stayed in the Thompson Suite on the third floor of the hotel. It had everything we could ask for – including the infamous bathtub! Here's a video as well as some photos:
All of the rooms at the Cape have balconies with ocean views. Some also have plunge pools (ours didn't).
The views from our balcony were fabulous. We could see the hotel pool, the surfers in the morning while we drank coffee (there was a Espresso machine in the suite) as well as the infamous El Arco aka the Arch. Some of the evenings, there was also fireworks.
We arrived on a Saturday. On Sundays, the hotel sponsors an incredible brunch. Try as we might, we could not possibly eat everything – but we did sample a lot of delicious foods. The Sunday Brunch is available to Globalists (and perhaps all WOH members) at a reduced price.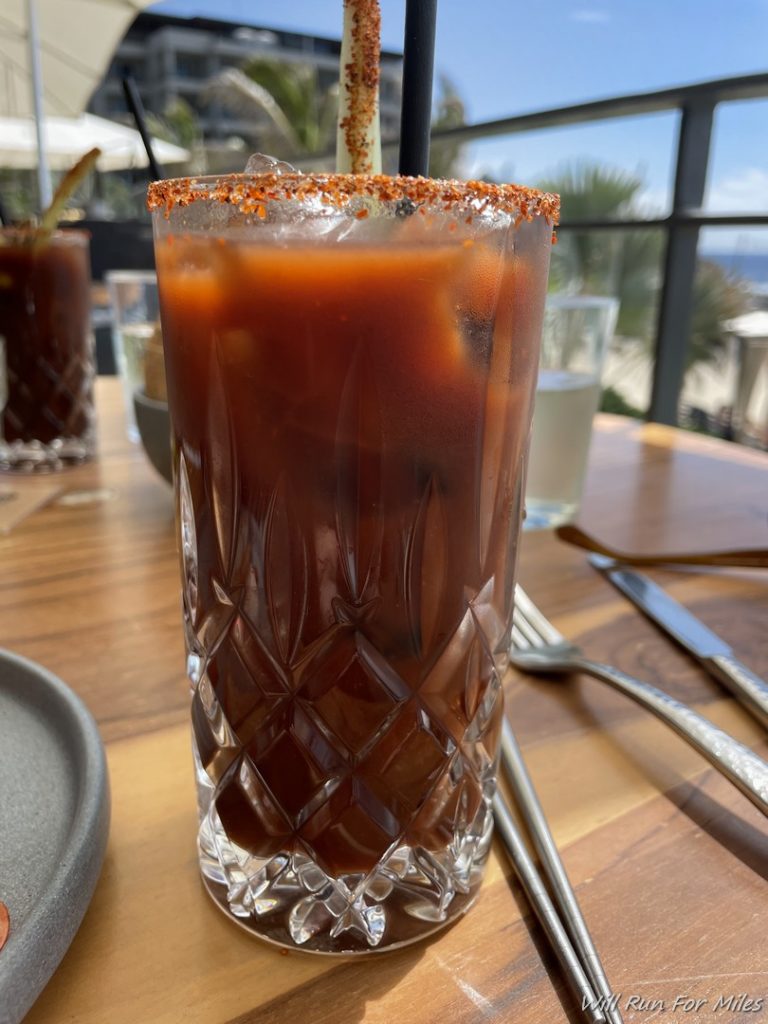 The other three days, we chose from the breakfast menu and ate breakfast outdoors (usually after working out at the hotel gym first). We really enjoyed the ambiance and the food at the Ledge Restaurant. Breakfast each day was a truly wonderful and delicious experience. As a perk of being a WOH Globalist, breakfast is complimentary. Otherwise it might be on the expensive side (but still delicious).
The view from the restaurant was phenomenal!
pastries and fresh fruit
Short Rib Fried Eggs Mole Negro
Avocado Toast
The hotel is also the home of the restaurant, Manta, which has a great reputation, but we did not have the chance to dine there.
There are two pools at the hotel: a large infinite pool and a smaller  quieter salt water pool. We did not have any trouble finding available lounge chairs. We did not order food or drinks from the pool bar, Point Break, but people looked very happy with their orders.
The hotel rooftop is known for it's bar and lounge. However, there were private events on the rooftop during our visit, so, other than a quick walkthrough, we didn't explore it. There are also some fitness and wellness classes held on the rooftop (for a fee).
The hotel fitness center is on the ground floor (near the Ledge restaurant). It is well equipped and has Peloton bikes (and shoes!). I liked that I could look out onto the beach while I was working out.
What more can I say than I loved, loved, loved the Cape?
Editorial Note: The editorial content on this page is not provided by any of the companies mentioned, and has not been reviewed, approved or otherwise endorsed by any of these entities. Opinions expressed here are author's alone.