This page may contain affiliate links from our advertising partners for which we many receive compensation. This may impact how and where products appear on this site. This site does not review or include all companies or all available products. We are thankful when you support this site by using our links.
We visited the Andaz Papagayo in 2017 and loved it so much that we couldn't wait to go back (See, Another Vote for the Hyatt Andaz Papagayo in Costa Rica (Hotel Review). Of course, it took us four years to do so but that's par for the course.
We spent five glorious nights this month (August 2021) at the Andaz Papagayo and we loved it even more than the first time.
There were a few things that were new since the last visit, or some lessons learned therefrom, but primarily, it was the same.
Our first visit was during a very busy holiday week in April 2017, so it was understandable that there were no suite upgrades available during that stay. Even the standard rooms were large and had balconies, so we comfortable and happy with the room.
We flew American Airlines to Liberia, Costa Rica. We debated whether to rent a car, but ultimately decided on an airport shuttle to and from the hotel for $100 round trip. After landing and going through passport control, we made a stop at the Duty Free shop in the arrivals hall to stock up on alcohol. It's not a bargain per se compared to the prices at home, but it is nice to have the option to have a glass of wine or cocktail in the suite or on our balcony. We also brought a bunch of snacks with us from home (almonds, pretzels, cookies), since we knew from our last visit that unless you have a car, there is no access to nearby shops.
Arriving at the Andaz was like coming home. We were greeted like royalty and then seated in the main lobby area with Jeffrey who took our documents and told us about the hotels' offerings. The lobby, like most everything at the resort is open-air, one of the reasons we felt comfortable visiting during these pandemic times. We were asked if we wanted housekeeping to come in the morning or afternoon. We were also informed about activities at the hotel, that the Beach House would be closed one day, and that the adult pool would be closing for renovations (but that the family pool would be divided into family and adult areas).
Without exception, every employee wore masks at all times, regardless of whether they were indoors or outdoors.
The hotel is a category 5 World of Hyatt hotel (20,000 points per night) and we booked our stay using points. We were informed in advance that we were upgraded to a standard suite. When we arrived at our room, we learned that it was a premium suite. It is called the Andaz Bay View Suite and it is simply gorgeous.
On the table, there was a welcome card, and an anniversary card (for our 13th anniversary), as well as a bottle of wine and a cheese platter encircled by a heart of rose petals!
Also provided are fedora-style hats (a nice concept, but they were always too small for our heads) and flip flops. There is an espresso machine (the coffee was delicious). Like other Andaz hotels, non-alcoholic beverages and snacks are complimentary and refreshed daily. We don't drink soda, so we primarily had the refrigerator stocked with plain and sparkling water. The snacks were mainly granola-type bars. The hotel is on WhatsApp, and I found this method of communication during my stay very easy and effective.
The rooms were very clean and the remote controls for the TV were wrapped and sealed.
The bedroom is simply lovely with breathtaking views of the Papagayo Bay and the green forest surroundings.
The balcony is off of the bedroom. We spent a lot of time there – drinking coffee in the morning, sipping wine later in the day and watching the many rainstorms in between.
There is a walk-in closet.
There are two bathrooms. The master bathroom is amazing. It has two sinks, a bathtub and a shower.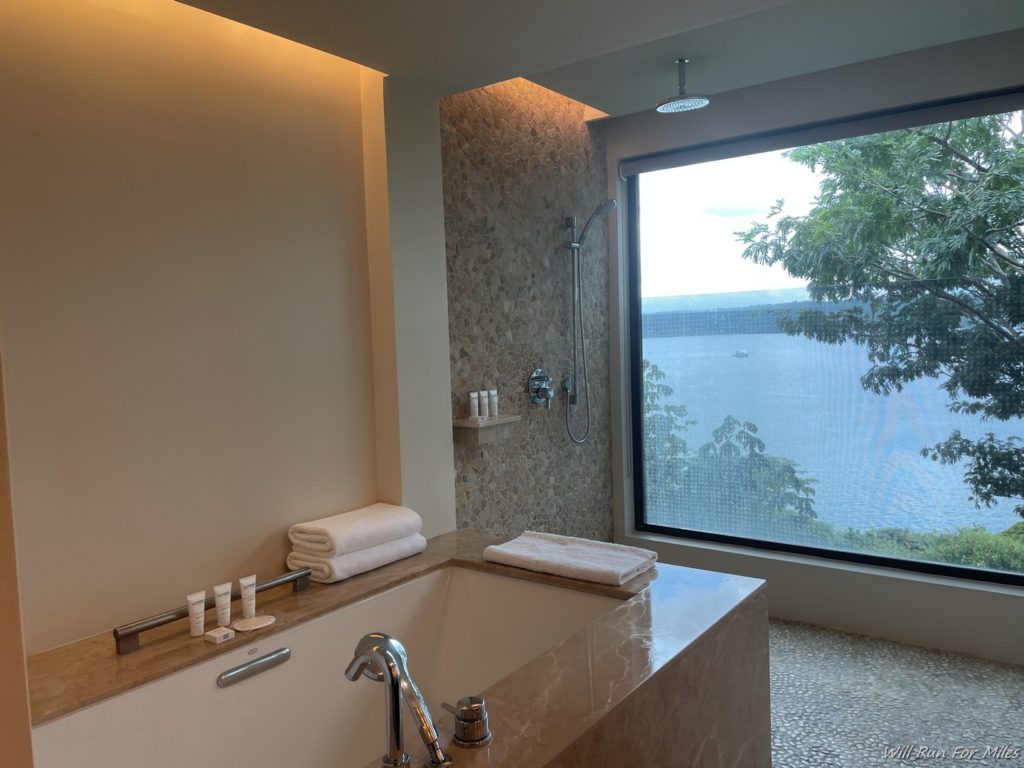 A shower with a view!
And, of course, robes for after the shower.
There is also a small bathroom, with a toilet and a sink, when you enter the suite.
Before breakfast, each morning, we went to the gym or for a walk or hike (Review of the fitness center to follow ).
Breakfast is served in the Rio Bhongo restaurant. Breakfast is laid out as a buffet very similar to how it was before the pandemic, except now you walk around to the various stations and the staff serves you rather than you serving yourself. Many items were the same each day (scrambled eggs, bacon, rice and beans), but there were always a few different hot items each day too (such as chicken tamales or huervos rancheros). I was very happy that there was also a salad station as I generally like a salad, rather than a bread item, with my breakfast. Once again, staff was incredible – not only in their service, but also in taking the time to talk to us about their lives and their work. As a globalist, breakfast was complimentary. Otherwise, it would be $32, or you could order from the ala carte menu (see, Menu).
Here are some photos:
Each afternoon, weather permitting, we went to one of the hotel pools. They were idyllic. Since the hotel wasn't crowded, it was never difficult to find an available lounge chair. The hotel provides sunscreen.
On our 2017 visit, we saw (and heard) many monkeys. They even stole our food on more than one occasion. We really only had the pleasure once this trip to see monkeys when a group were rummaging through one of the trees on the right of the above photo looking for berry-like fruits.
There is also a Beach House at a separate beach area, accessible by a hotel-furnished boat or shuttle, but due to afternoon storms, we never made it there.
As for evening activities, there was a live band at Chao Pescao, a tapas restaurant at the Andaz, a few evenings. The restaurant has good cocktails and lots of nice small dishes. Quite a few nights, we ate at a nearby restaurant called The Dive Bar (which really isn't a dive bar at all).  That will be reviewed separately.
Related posts to follow: (1) Covid testing, requirements and precautions in Costa Rica and at the Andaz, (2) Fitness center and Spa review, (3) the Dive Bar, and (4) now you can buy a residence at the Andaz Papagayo.
Many thanks to every single staff member at the Andaz, including the General Manager, Adam Zilber, for their exceptional hospitality. I am so lucky.
Editorial Note: The editorial content on this page is not provided by any of the companies mentioned, and has not been reviewed, approved or otherwise endorsed by any of these entities. Opinions expressed here are author's alone.