This page may contain affiliate links from our advertising partners for which we many receive compensation. This may impact how and where products appear on this site. This site does not review or include all companies or all available products. We are thankful when you support this site by using our links.
The Airtrain is a great means of  transportation to and from JFK.  It is only $5 and connects you from the airport to the subways or railroad in Jamaica (generally, the E train, or the Long Island Railroad for travel to Long Island, Queens, Manhattan or any connection through Penn Station) or Howard Beach (generally, the A train, for travel to Brooklyn or downtown Manhattan).
It is possible to save the $5 by not taking the Airtrain at all, or by only taking it to Lefferts Blvd, where you can get on or get off the AirTrain for free.  I would only recommend this if: (1) you have little or no luggage and don't mind climbing a few steps; (2) you have some extra time; and/or (3) it is not rush hour.
There are a few other options, including the B15, and exiting or entering the AirTrain at Lefferts Blvd, which perhaps I'll discuss at another time, but this post is about the Q10 bus.  Download the PDF file for the Q10 bus here.  Here's the map: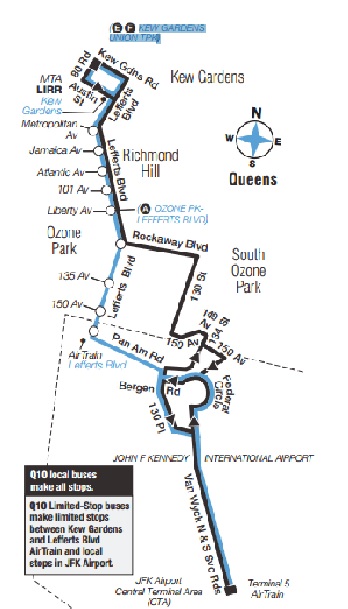 The Q10 bus begins (or ends) at Terminal 5 at JFK.  This is perfect if you're flying Jet Blue , but if you are flying other airlines you can jump on the AirTrain from another terminal and go to Terminal 5/6 stop for free (or you could take the Airtrain to Lefferts Blvd and take the Q10 bus (or B15 bus) from there.
The Q10 bus basically goes to the same places as the AirTrain; it is just a little slower.  You can catch the A subway at the OZONE PK/LEFFERTS BLVD STOP and head to Brooklyn or Lower Manhattan that way.  Alternatively, you can stay on the Q10 bus until the end and catch the E or F subways at the KEW GARDENS/UNION TPK stop.
Twice last week, I had meetings at JFK, and, since I didn't have luggage, I experimented with taking the Q10 bus.  I found that it took about 25 minutes from JFK to Ozone Park/Lefferts Blvd, and about 35 minutes from JFK to Kew Gardens.
Editorial Note: The editorial content on this page is not provided by any of the companies mentioned, and has not been reviewed, approved or otherwise endorsed by any of these entities. Opinions expressed here are author's alone.