This page may contain affiliate links from our advertising partners for which we many receive compensation. This may impact how and where products appear on this site. This site does not review or include all companies or all available products. We are thankful when you support this site by using our links.
Can I just tell you how much I loved the Radisson Blu Plaza Hotel in Helsinki, Finland?
Not to be confused, there are four Radisson Blu Hotels in Helsinki, Finland. I did not see the other Radisson Blus, except I did run by one of the properties while out jogging Saturday morning. I chose the Radisson Blu Plaza (or the Plaza Hotel as it is known locally) based on the central location and the fabulous reviews. When I visit a city for only two nights, especially when traveling solo, I want to be in a hotel that I feel welcomed and comfortable at and one that is right in the middle of the city!
I didn't know what to expect, but I was blown away by the hotel. It is a landmark property dating back to 1917. It was recently fully renovated, and I mean fully renovated! For example, I counted 13 available electrical outlets in my room. When did you ever see that? The hotel is beautifully designed, and the staff couldn't have been nicer and more accommodating.
I arrived before noon, but was checked-in early without a problem (see this LINK if you'd like to read about my flight to Helsinki and my train ride from the airport to the city). The ground floor of the hotel is large and beautiful. The hotel has parts that are very modern and others that are art deco or mid-century design – somehow it all works together incredibly well.
In addition to the hotel's front desk and lobby seating areas, there is also a restaurant and at least one bar on the ground floor.
I am a Gold Club Carlson member via the Club Carlson Visa card (yes, there are some credit cards that are worth paying annual fees for in order to attain hotel loyalty status).
I was upgraded to a Business Class Room, which was amazing. I loved the colors and the details.
The amenities and notes were thoughtful. The chocolate was great!
The bathroom was not very large, but it was clean and well decorated. And then I noticed a glass door. OMG, there's a sauna in the bathroom!!
The Plaza Lounge (for Business Class Rooms and Suites) is on a balcony overlooking the hotel Kitzen Restaurant, which you can see below.
From another area of the balcony, you can look down on the 7 Blings Bar. Check out those windows and that chandelier!
One corridor of the horseshoe-shaped Plaza Lounge is super cool. It is divided into mini-seating room areas – each designed differently, but each is very mid-century kitsch and fabulous.
The remainder of the Plaza Lounge is designed for eating, or meeting, or well…. lounging. There was breakfast in the morning, and complimentary drinks and canapés in the evening (from 5 p.m. to 7 p.m.).
I really enjoyed the breakfast at the Plaza Lounge. In addition to a buffet with fresh fruits, cereals, pastries, hot items and cheeses and meats, you could also order an omelette from the main restaurant. In fact, I had the choice to eat in the restaurant or the Lounge.
Evening Cocktails and Appetizers were also served in the Lounge. The red wine was Shiraz from Australia.
Did you notice that reindeer is on both the breakfast and the evening menu? I did taste reindeer mousse on a cracker. It wasn't my favorite food, but I tried it.
Having stayed at the hotel, I understand why it received all sorts of accolades, including the 2014 Certificate of Excellence. It's the sort of hotel where you notice all those wonderful little things – they definitely got it right!
Did I experience any negatives? Of course there were a few. First, the wi-fi service was intermittent, at best. Second, the hallways were too dark for my comfort. Third, I was not fond of the selection of evening appetizers, but the wine was good.
Having said all of that, I nevertheless highly recommend the hotel.
Plan your Spring travel today and receive 20% off of a 2-night consecutive stay at participating hotels. Take advantage of this offer now through April 30, 2017. (300×600)" >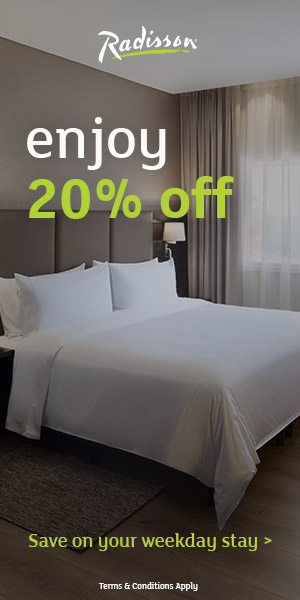 Editorial Note: The editorial content on this page is not provided by any of the companies mentioned, and has not been reviewed, approved or otherwise endorsed by any of these entities. Opinions expressed here are author's alone.